The options and schedules below can be modified to suit your specific needs.
3 Hours San Francisco Bay Sailing…….      $450..  More time billed at $150 per hour
2 Hour Ash scattering………………                $300  Typically out to Golden Gate Bridge
2 Hour Sunset Cruise……………….               $300
Team Building…  Training at the dock and on the water all billed at $150 per hour
These sessions can be held in conjunction with Wednesday and Friday night races April through September.
$150 booking deposit required. All refundable if cancelled within 72 hours. If weather precludes a safe and pleasant day, and alternate date cannot be set, booking deposit is refunded right up to sailing date
Team building for Midwinter races requires two days- a training day and a race day, as evening races aren't held in winter. Training days will be held on Fridays with a Saturday race November through March.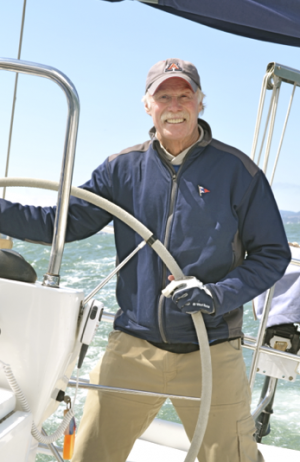 Rick Niles has been sailing all his life and has owned numerous boats, both power and sail. He built his first boat at age 10 and never been without one since. Gentle Storm is fifth sailboat and fourth in a continual upgrade in the Catalina line. He has done numerous California coastal trips and to Mexico twice.  He has also sailed in the Mediterranean, the Caribbean, South Pacific and New England. He has raced on many different types of boats on San Francisco Bay since age 14. He holds a U.S. Coast Guard captains license and would love to introduce you to the world of life on the water.